Over the last century, Samuelson's Buyers has learned a lot about coin worth, valuable American coins, and the most valuable coins in general. Some might think coin collecting has gone by the wayside. However, some old coins retain their value incredibly well – far beyond their purchasing power. Additionally, the rarer they are, the more they can command. Rare coins are exceptionally unusual to come across, but we love it when we do!
Before we dive in, it's important to remember that coins are currency and therefore were always meant to be spent. As long as it's still in circulation and backed by the government that minted it, a coin can always be spent for its face value. In other words, your penny will always be worth a penny. But that penny (or any other coin) can be worth much more, too.
So what makes a coin valuable?
The materials that coins are minted on also play a role in old coin value. Precious metals such as gold and silver have fluctuating markets, which can make coins minted from those materials worth more than their face value. For example, a 1oz. American Gold Eagle with a face value of $50 is worth more than $1800 currently (June 2020). Even certain quarters can have surprising value because of their silver content. Quarters minted prior to 1965 are 90% silver by weight or about $3.50-$4.00 in silver value alone.
Did You Know:

Numismatics is the study and collecting of coins and currency.
Researchers believe that the first coin collector may have been Caesar Augustus around 2000 years ago!
Here are some of the most valuable coins in America and why they are more valuable than others:
1913 Liberty Head Nickel
With only five of these believed to have ever been printed, they are exceedingly rare. They were part of a single collection for years until they were split up. Most recently, one sold in 2018 for $4.5 million. 
1870 S Liberty Seated Dollar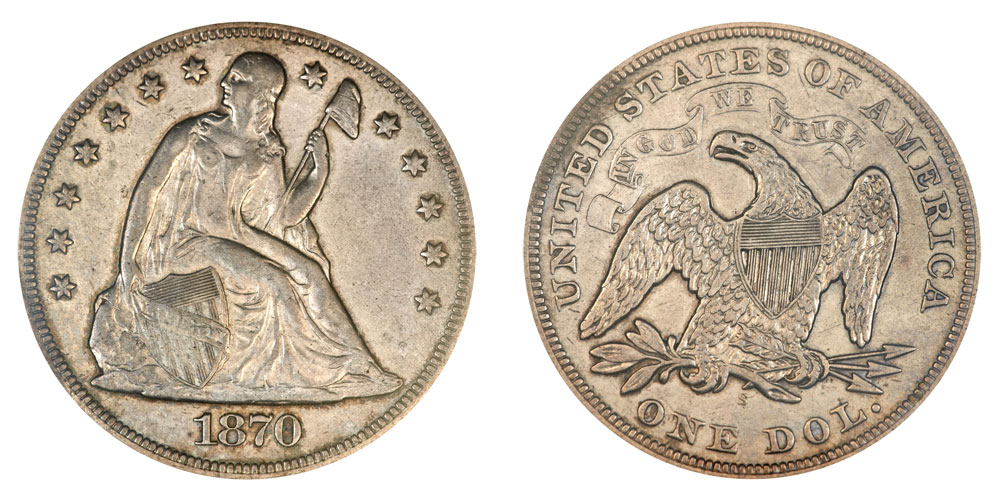 Only around 15 of these coins are estimated to exist and this is one of the most famous and rarest of all U.S. coins – largely due to the fact that  the U.S. Mint had no official record of ever producing these coins.
1927 Double Eagle (D)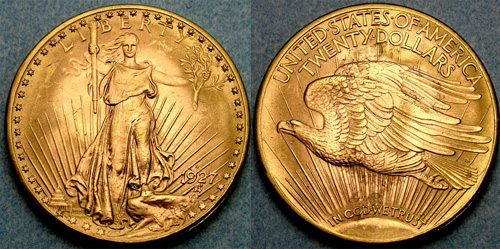 Designed by Augustus Saint-Gaudens, the Double Eagle is considered one of the most beautiful American coins ever issued. Soon after this coin was minted, President Roosevelt banned private ownership of gold. The vast majority of these gold coins were melted down, leaving the remaining few as rarities for collectors.
1794 Silver Flowing Hair Dollar
This 1797 Silver Dollar is actually a fake! But only an expert coin appraiser can tell the difference!
The Flowing Hair dollar was the first dollar coin issued by the United States federal government. The coin was minted in 1794 and 1795; its size and weight were based on the Spanish dollar, which was popular in trade throughout the Americas. Not only is this an exceptionally rare coin to find, it is also a key part of American history.
1838 O Capped Bust Half Dollar
This half dollar was minted 2 years after the rare 1838 (O) coin, but is much less valuable!
Minted in New Orleans, only about a dozen were minted due to issues with the press. Not to mention, the mint itself was closed for months due to a yellow fever outbreak in New Orleans.
1804 Draped Bust Quarter
The 1804 Draped Bust Quarter is among the most valuable of American quarters, partially for its historical significance. Prior to 1804, U.S. quarter production had been halted for the previous eight years. When quarter production resumed, only 6,738 pieces were coined. Of that number, only a small fraction survives today, making it incredibly rare and exciting when they are found.
1893 Silver Dollar
During the late 1800s, the US was suffering through an economic depression. In 1893 the government purchased nearly 4.5 million ounces of silver. But because of the economic troubles, most of it sat unused for years. Only 100,000 silver dollars were minted that year and most ended up being melted down for their silver value. Today, the 1893 (S) Silver Dollar might bring $500,000 on the open market.
Is Your Coin Collection Worth a Fortune?
At Samuelson's Buyers, we can help identify what your U.S. coin worth is. Because of our experience buying and selling all kinds of valuables, we offer better prices than any other coin buyer in the Washington, DC area. Make an appointment or call our Baltimore store at 410-403-3091 to connect with a trusted coin buyer and we'll evaluate your coins, answer your questions, and make you a fair offer.